Many courageous researchers, both witnesses to and victims of judicial injustice, extortion, and other nefarious practices, have brought forth their wisdom concerning the state of the US court system and some solutions for its reform.  The Committee to Support the ITNJ staff of volunteers have culled a few resources to assist in your exploration of the truth about systemic corruption in the courts.
Resources:
Lawless America Documentary Trailer ~ Bill Windsor
LawlessAmerica.com ~ Bill Windsor's Website
Dr. Richard Cordero on Judicial Wrongdoing

Dr. Cordero has done exhaustive research on judicial corruption in the United States, and collected his findings on his website, Judicial Discipline Reform.  Dr. Cordero has also issued a report, Exposing Judges' Unaccountability and Consequent Riskless Wrongdoing, which is an extensive collection of his research, studiously footnoted, with hotlinks in the table of contents that jump to specific sections with the 669 pages.  It covers a wide range of subjects, including statistics on judicial corruption, case studies of judicial corruption, including of Supreme Court Justice Sonya Sotomayor (who concealed the DeLano case during her confirmation hearings, a judge-run bankruptcy-fraud scheme), and detailed recommendations for reforming the system of judicial discipline, which is basically non-existent.  From the Executive Summary on p. 4:
Section A discusses the means, motive, and opportunity enabling federal judges to do

wrong. They wield their decision-making power with no constraints by abusing their self-

disciplining authority to systematically dismiss 99.82% of the complaints filed against them.
Dr. Richard Fine Exposes Corruption in California Courts and Los Angeles Courts
Retired Judge Mary Elizabeth Bullock interviewed by Bill Windsor
This website traces the case of Eugene Wzorek, a former City of Chicago truck driver, who is the only person to ever win a Shakman decree case against the City of Chicago.  Wzorek has documented proof that a supervisor of Federal District court reporters, the City of Chicago, and its attorneys willfully engaged in a scheme of altering the record of lower court proceedings, which caused a false and misrepresented record of proceedings to be filed and presented before the Appeals court.  In spite of all of the evidence; the United States Department of Justice, the State of Illinois Judicial Inquiry Board, the FBI, the House of Representatives, various organizations, institutions, and even talk show hosts have either ignored him or have turned him down in his quest to expose the corruption.  Evidence of corruption was submitted to the US Supreme Court, and the Supreme Court refused to hear the case.
This website documents the case of Kathrein v. McNamara, Kinsella, et al. Case No. 05-1431 before the Supreme Court of the U.S. (dismissed).  Throughout the case is documented evidence tampering and suppression by court officials, and eventual dismissal by the Supreme Court.
This website promotes passing an amendment to each US state constitution to institute procedures for addressing judicial corruption.  There is a lot of documentation of corruption on the site, and there are some concrete proposals for what to do about it.  Whether any of these amendments has passed is a research project that the ITNJ Committee has not yet completed.  What is clear is that many people across the country are aware of the judicial corruption issue and are working on ways to correct it.
Only 3% of Cases Are Decided in Favor of the People; Judges Leave the Courtroom and Return Under Different Jurisdiction; Judges Rarely Rule in Favor of Pro Se Litigants
Judicial Corruption Around the World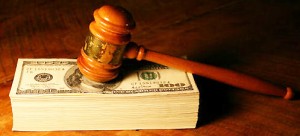 This document focuses on two main types of corruption:  political interference in the election of judges and in judicial decision, and petty bribery.  It explains very well these types of judicial corruption, and includes case studies of judicial corruption in 37 countries.  But it is published by Cambridge University Press, and completely fails to mention the underlying systemic issue of usurpation of court systems by for-profit corporations.  The Transparency.org web page on judicial corruption describes problems and offers solutions attempting to reform a broken system from within, rather than transforming it by shining a light on the core issue.