The ITNJ was Established to Address Key Issues
The ITNJ Board of Trustees released a statement on 14 March 2017 in which they clarified why the ITNJ and this supporting organization will be mainly focused on allocating all resources for the ITNJ Judicial Commissions of Inquiry.  The first is an Inquiry into Human Trafficking and Child Sex Abuse, successfully launched in London, UK in April of 2018.
On the completion of all on-site hearings, further digital witness testimonies, and a full Commission Report to be released in late 2019, the Board of Trustees has further considered to best proceed in addressing the most pressing issues of our world.
Thus, the 2nd Judicial Commission of Inquiry is:  Weaponization of the Biosphere to be officially seated in Asia, June of 2019.
For more information please contact the ITNJ Registrar.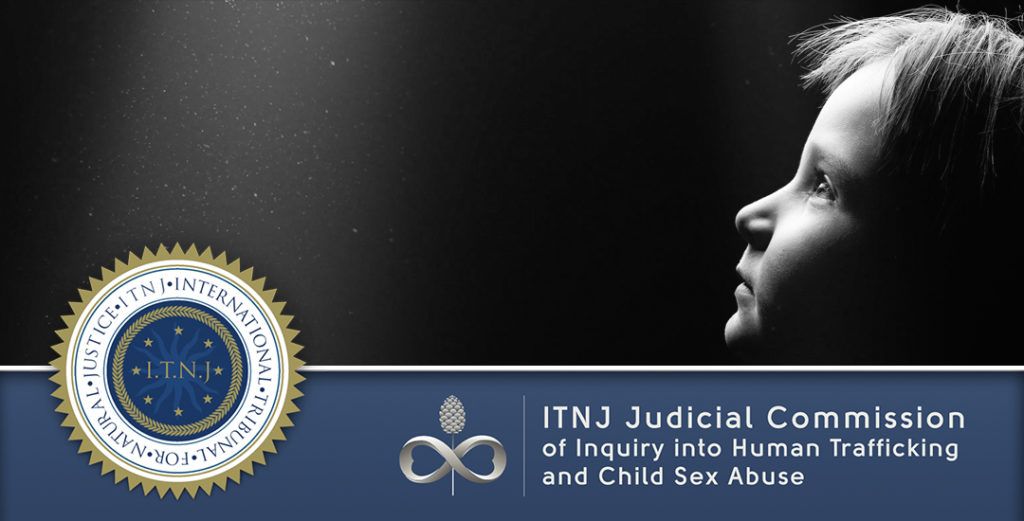 The following natural justice topics are serious considerations that the ITNJ Trustees may address in the near future:
Food and Farming Freedom
Hundreds of farmers in India have committed suicide because contracts for GMO seeds have driven them bankrupt.
James Stewart, Rawsome Foods (right to sell and drink raw milk)
Healthcare Freedom
Man Charged for Treating Daughter's Cancer with Cannabis Oil.  Adam Koessler was charged for supplying dangerous drugs to a minor after giving his two-year-old daughter, Rumer, medical grade cannabis oil in a desperate bid to treat her stage 4 neuroblastoma cancer.  Since being forced off the cannabis oil, Rumer's condition has dramatically worsened and she is now in intensive care on morphine.
GcMAF Lab in UK Shut Down by Regulators.  Medicine and Healthcare Products Regulatory Agency (MHRA) has shut down a facility which was producing GcMAF/Goleic – a safe, side-effect free medication which cures a range of immunity-compromising health conditions including cancer and autism. According to the report, over 100,000 vials of the medicine were confiscated despite the fact that no ill effects were reported.
Daniel Smith jailed for selling Master Mineral Solution, a life-saving treatment proven to cure malaria and many other conditions for pennies per dose.
A woman who refused medications is locked in a mental hospital and medicated against her will, and her husband has fought through the courts for years to get her released.
Land Rights and Water Rights
Right of Communities to Clean Water, Air, and Soil; Right to Sue for Damages to the Environment and Public Health
Shipping companies dumping oil near a fishing village in Nigeria have destroyed the livelihood of the entire village.
Workers at a chemical factory and people in the neighboring community in Bangladesh have alarming rates of cancer from breathing the poisonous gases.
Bodily Sovereignty
Parental Rights, Right to Homeschool Your Child
Right to Refuse Warrantless Surveillance; Right to Refuse Cancer-Causing EMF Radiation of Your Home
Nullification of the Posse Comitatus Act of 1878
US Supreme Court Refuses to Hear Challenge to Military Detention Clause of 2012 NDAA Act.  Plaintiff Chris Hedges in an article posted at TruthDig.com:  "The U.S. Supreme Court decision to refuse to hear our case…means that extraordinary rendition of U.S. citizens on U.S. soil by our government is legal. It means that the courts, like the legislative and executive branches of government, exclusively serve corporate power—one of the core definitions of fascism. It means that the internal mechanisms of state are so corrupted and subservient to corporate power that there is no hope of reform or protection for citizens under our most basic constitutional rights." "In declining to hear the case Hedges v. Obama and declining to review the NDAA, the Supreme Court has turned its back on precedent dating back to the Civil War era that holds that the military cannot police the streets of America," said attorney Carl Mayer…. "This is a major blow to civil liberties. It gives the green light to the military to detain people without trial or counsel in military installations, including secret installations abroad. There is little left of judicial review of presidential action during wartime."
Right to Bear Arms, Right to Trial By Jury, and more…
Murder or Assault by Police Officers, Officers Not Prosecuted, Damages Not Paid to Families
This pandemic is worsening such that to list the crimes against the people by officers sworn "to serve and protect" is a monumental task, so we name some of the most infamous and egregious cases.  For daily news about the worst cases like these, you mat choose to peruse: The Free Thought Project.
Baby Bou Bou Maimed for Life by Flash-Bang Grenade Thrown Into Home During No-Knock Police Raid.  Courts deny family compensation for medical expenses.
Alexander Vago v. County of Los Angeles et al, Federal Court Case # 2:13-cv-00868-DMG-RZ.  Alexander Vago was an hourly wage worker in a natural foods store, an ordinary guy, who is now unable to work and on disability since the incident described here.  On May 15, 2011, Alexander Vago was brutally beaten by Los Angeles County Sheriff's Department Deputies Brent Bunch and Doug Duvall at a routine traffic stop for a minor traffic infraction.  Mr. Vago was merely a passenger in the back seat of a car.  He was unarmed and had no criminal record.  There are multiple witnesses who will state under oath that he was calm and didn't pose any threat to the officers or anyone else.  He never lifted a hand to fight back or even to defend himself.  He didn't move.  Nevertheless, the two deputies took turns tasing and stunning him in the head and neck about a dozen times until he keeled over in his seat half unconscious, then they maced his eyes at immediate range.  https://www.indiegogo.com/projects/bad-cop-no-donut
Right to a Speedy and Public Trial, Right to Trial By Jury
Paul Andrew Mitchell, Private Attorney General ~ Jailed for 11 months without charge or trial
Mortgage and Foreclosure Fraud
Ingunn Sigurdsdatter ~ A woman in Norway who has severed all ties to the state and declared herself a sovereign and a living woman "allowed" her house to be seized in a fraudulent foreclosure, and has since filed charges against the living woman posing as the Prime Minister of Norway, Erna Solberg.
Right of Journalists to Broadcast/Publish Without Censorship; Right of the People not to be intentionally lied to by Mass Media corporations
Two journalists in Florida tried to do a story on Monsanto's rBGH and were silenced.  They have already exhausted most, if not all, local legal remedies. They filed a case in Florida seeking whistle-blower status for retaliatory firing for refusing to report a false news story at FOX news.  A lower court ruled in their favor.  An appellate court overturned the decision.  The judges found that falsifying news is not against the law.
Right to Peaceably Assemble
Occupy Wall Street Protesters violently dispersed or assaulted and arrested.  NYC bridge marchers want en banc review.
Assaults against Standing Rock Water Protectors and Dakota Access Pipeline Protesters in Cannonball, North Dakota
Other Natural Rights violations:
Right to Free Speech
Right of Journalists to Protect Sources
Right to Practice Any Religion or No Religion
Right Not to Be Subject to Warrantless Searches of Body, Home, Vehicle, Papers, and Effects
Right to Privacy
Right to Travel (TSA Searches, Immigration checkpoints, Agriculture checkpoints, DUI checkpoints, etc.)